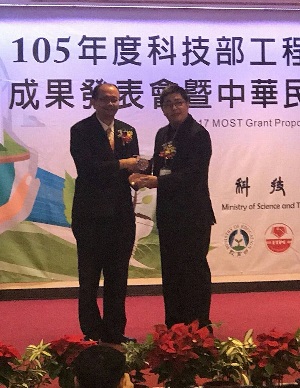 The Taiwan Ministry of science and technology held a presentation of developments in energy sphere in order to improve interaction between government, industries, universities and research centers of implementation of modern scientific developments. This event took place in Juan Chen National University from 1st to 2nd of December 2017.
Due to the recommendation of Professor Lay Yang Sheng, — who is the chairman of the Power Engineering Association, — the MEAN WELL company was awarded significant award "Premium for contribution to the industry." Dr. Adam Ho from R&D center was representing MEAN WELL at the awarding ceremony. On behalf of the company Jerry Lin and Dr. Ho expressed appreciation to the committee for such a high rating and emphasized the importance of young talents in development field.
There are four Taiwanese companies of five biggest producers of power suppliers in the world and MEAN WELL is one of them. Jerry Lin said: "Taiwan power engineering is modern and competitive, but if we want to keep Taiwan energy industry on leading positions and support its competitiveness in the international market we need to develop and promote talents. Besides, it is one of the MEAN WELL strategies of steady growth."
Big award to MEAN MELL confirms its contribution to innovation development in the technology area, increasing of energy efficiency and production quality during 35 years of company's activity. WEAN WELL cooperates with universities for exchanging of information and holds business meetings at the Business Visit and Power Electronics Camp. Furthermore, MEAN WELL Co. is one of the few power supply producers which have their own brand name. It's included in top 5 producers of pulse power supplies list and takes the second place of LED Driver producers in the world. This Taiwan company is a real "The secret champion."
For further technical information of MEAN WELL products contact the official distributor in Ukraine — SEA Company Tel: (044) 291-00-41 (ext. 804), info@sea.com.ua.