New Traco Power modules of the TMPS 10 series are remarkably compact (only 1 by 1.5 in) and fully enclosed in a lightweight plastic resin case. The series is not only certified for household applications in accordance with EN/IEC 60335-1 but also has safety certificates for IT and industrial solutions (UL/EN/IEC 62368-1).
Compact casing, low idle power consumption and the ability to withstand 130% peak overload make TMPS 10 AC/DC power modules the ideal solution for applying in systems and devices with strict requirements for reliability and dimensions.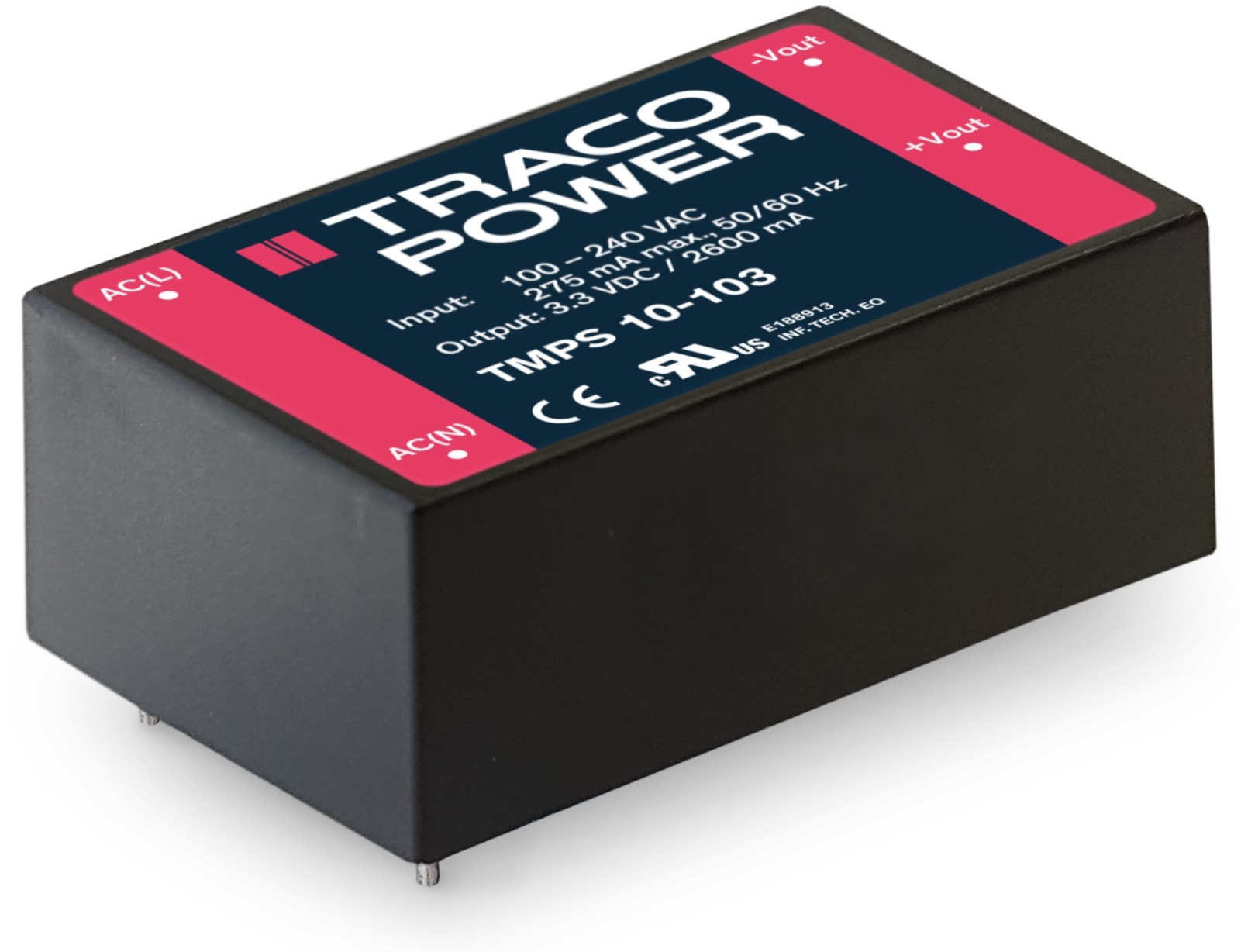 Key features and benefits of the TMPS 10 series
Very small 1" x 1.5" package for PCB mount
EN 60335-1 and UL 62368-1 approvals (industrial and home automation)
4000 VAC isolation voltage (60s)
Operating temperature range from –25°C to +70°C
130% peak current up to 30s
Ready to meet ErP directive, < 0.15 W no load power consumption
Class B EMC emission (EN 55032, EN 55014-1)
Protection class II (IEC/EN 60536)
3-year product warranty
Technical specifications for new AC/DC converters
Model
Input
Output Voltage
Output Current
Datasheet
TMPS 10-103
85-264 VAC / 120-370 VDC
3.3V
2600mA
TMPS 10-105
5V
2000mA
TMPS 10-109
9V
1100mA
TMPS 10-112
12V
830mA
TMPS 10-115
15V
660mA
TMPS 10-124
24V
410mA
TMPS 10-148
48V
210mA
For more technical information and to purchase TRACO POWER products contact the official distributor of Traco Electronic AG in Ukraine – SEA Company – by phone (044) 291-00-41 or via sales@sea.com.ua.